Before the holidays, my boyfriend called me from work one day to make sure my calendar was clear for MLK weekend. He was buying plane tickets for us, but wouldn't tell me where. Turns out, he got us tickets to Portland. Woohoo! He said that was a really hard secret to keep, and everyday and he wanted to break down and tell me where we were going. He did finally tell me a few weeks before the trip, so that I could plan where I wanted to go (and have any clue what to pack). I didn't take a ton of food pictures while we were there; I'm still a bit shy about taking pictures of food in restaurants, but we did get a few.
Bamboo Fries from
Nutshell
. Warning: These are so good that it is really easy to eat too many of them and then be too full to enjoy your actual dinner.
Jamaican Barbeque Plate from Nutshell. Very good (especially the stuffed orange and the dumpling things), even if I didn't eat much of it due to the bamboo fries.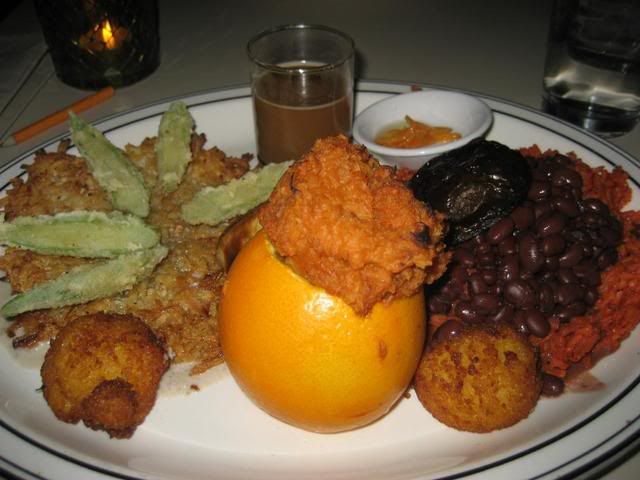 Tandoor Fire Roasted Vegetable Plate from Nutshell: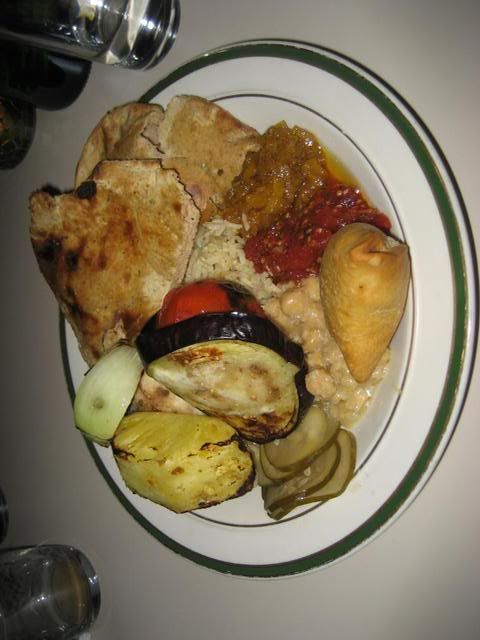 Salad from
Blossoming Lotus
(I tried beets and liked them! I didn't like the salad dressing, though.):
My boyfriend's dinner at Blossoming Lotus. It was the chef's special; I think it was teriyaki.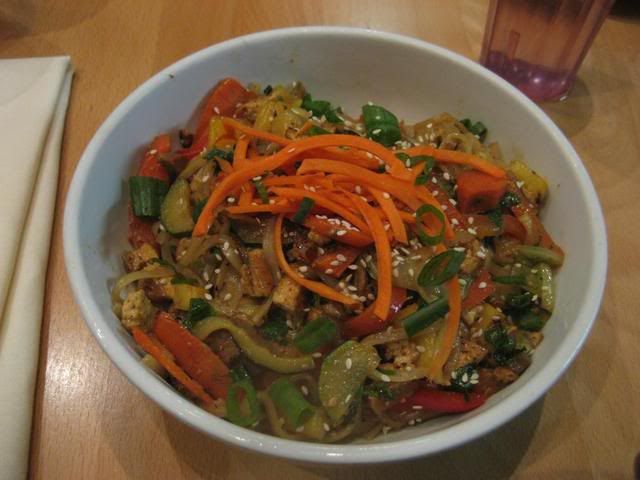 BBQ Tempeh Platter from Blossoming Lotus. Their tempeh is awesome! I want to know their secret. We also got a small thing of soft serve ice cream (chocolate almond) there, but for some reason didn't take a picture. I must have been too excited about the soft serve.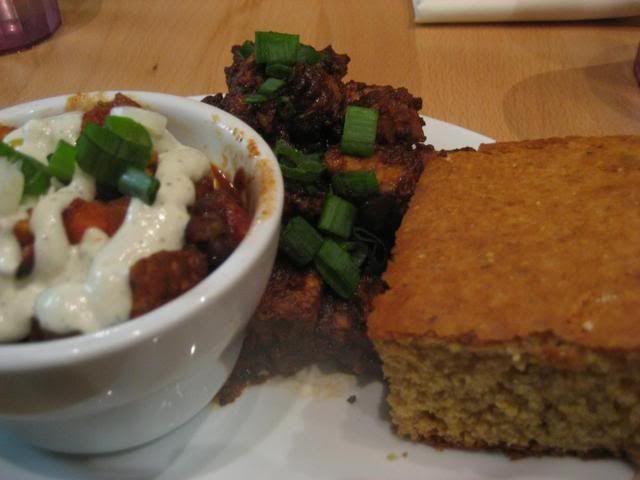 Blossoming Lotus wasn't actually on my list of places to eat while we were visiting, but we walked by it one afternoon and it was packed and looked really good, so we decided to go there for dinner that day. I'm so glad we did. It was delicious. Sure, the atmosphere is a little odd, since you're eating dinner in a yoga studio and all, but it was kind of nice to eat dinner in a quiet restaurant.